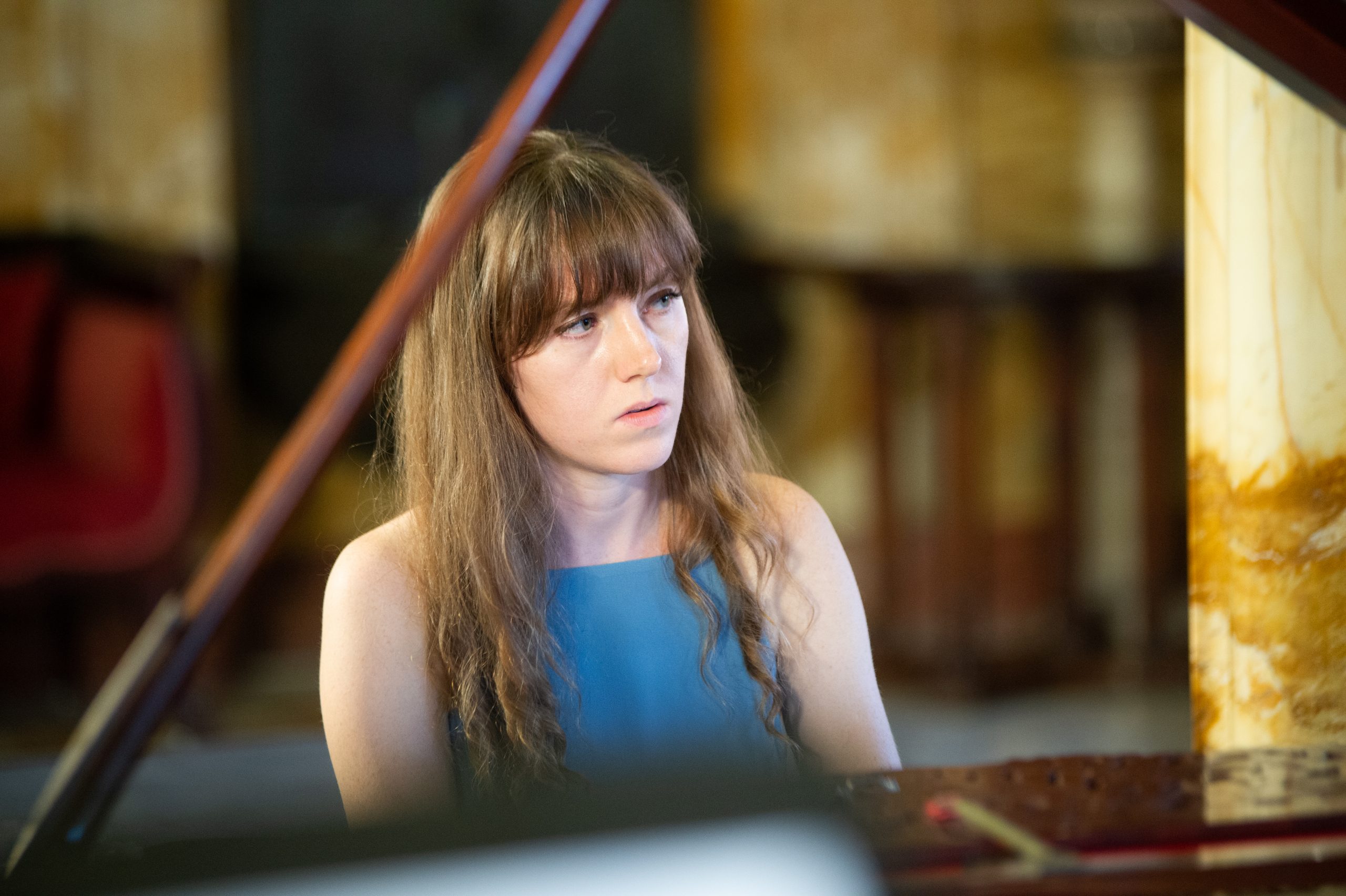 Kaitlin Webster-Zuber, Co-Founder
Kaitlin Webster-Zuber is a pianist-composer and a native of Los Angeles, California. She attended the Colburn Community School of Performing Arts (2009-2018), her focus being her private piano study and avid participation in the Colburn Chamber Music Institute (2016-2018). She also enjoyed branching out to study tap dance, music theory, voice (private and choir), and ballet. Throughout her time at Colburn, Kaitlin performed in MTAC, CAPMT, and Junior Bach festivals for piano at both local and regional levels. She participated in Junior Chamber Music, serving as director of the Los Angeles Branch Board for Junior Chamber Music Student Service Alliance (JCMSSA, 2014-15). In JCM, she was awarded numerous scholarships including: the Costa Rica Chamber Music Festival, the Idyllwild Arts Summer Piano Intensive, the John Perry Academy Summer Piano Festival, the Montecito International Music Festival, and the Warsaw Piano Intensive. In July 2018, she was invited to the Concerto Fest Europa in Bratislava, Slovakia, where she performed solo repertoire and the Mozart Double Piano Concerto No. 10 with her sister and piano duo partner, Emily. Kaitlin frequently works with The Music Guild of Los Angeles and volunteers for their piano adoption and outreach performance programs.

As a composer, Kaitlin has studied privately under recognized composers Ian Krouse (UCLA), Derrick Skye (MSMU), and Juan Pablo Contreras. She has premiered numerous compositions with organizations including Salastina, Sunset ChamberFest, and Mount Saint Mary's University, and also composes to short films and audio dramas.

Kaitlin is pursuing her BA in Piano Performance at Mount Saint Mary's University. Her solo and chamber music experiences inspired her to establish outreach concerts, programs which combine Classical music with other artistic forms such as art and dance, as well as more intimate house concerts – all of which led her to co-found Musical Traces with her sister Emily.
Emily Webster-Zuber, Co-Founder
Emily Webster-Zuber (b. 2003) is a classical pianist and composer, and a native of Los Angeles, California. Emily currently attends Mount Saint Mary's University, where she is earning a BA in Piano Performance under Xiao Chen. Since the Fall of 2018, she has been studying piano with Robert Ward. Emily has studied composition privately with Ian Krouse since 2017 and Derrick Skye since 2019. Her most recent and honored accomplishment is as a recipient of the ASCAP Foundation 2021 Morton Gould Young Composer Awards, winning with her string quartet Ocean Waves. Several of her compositions have been premiered with the LA Phil's Composer Fellowship Program, Salastina, and Sunset ChamberFest's Young Composers Workshop. Emily was a student of the Nancy and Barry Sanders Composer Fellowship Program through the LAPhil for the 2019-20 school year. During her time at Colburn, she studied piano, chamber music, choir, music theory, and tap dancing. Emily participated in the Chamber Music Institute at Colburn (2016) and Junior Chamber Music (2015-2021). In 2015 and 2016, she participated in the Piano Intensive Camp at Colburn. After being awarded scholarships from JCM, Emily attended the Idyllwild Arts Summer Piano Intensive and Chamber Intensive in 2018 and 2019 respectively, and the John Perry Academy in 2018. She was invited by Robert Ward to Concerto*Fest*Europa in Bratislava, Slovakia, where she performed solo repertoire and Mozart's Double Piano Concerto with her sister, Kaitlin. For the 2019-20 and 2020-21 seasons of Junior Chamber Music, Emily served as Director of JCM's Student Service Alliance. Alongside Kaitlin, Emily is Co-Director of Musical Traces, an organization dedicated to exploring unique ways of sharing classical music with local communities.