Tues., 5/2 @ 8pm: UCLA Faculty Composers Concert
May 2 @ 8:00 pm

-

10:00 pm

UTC-7

Free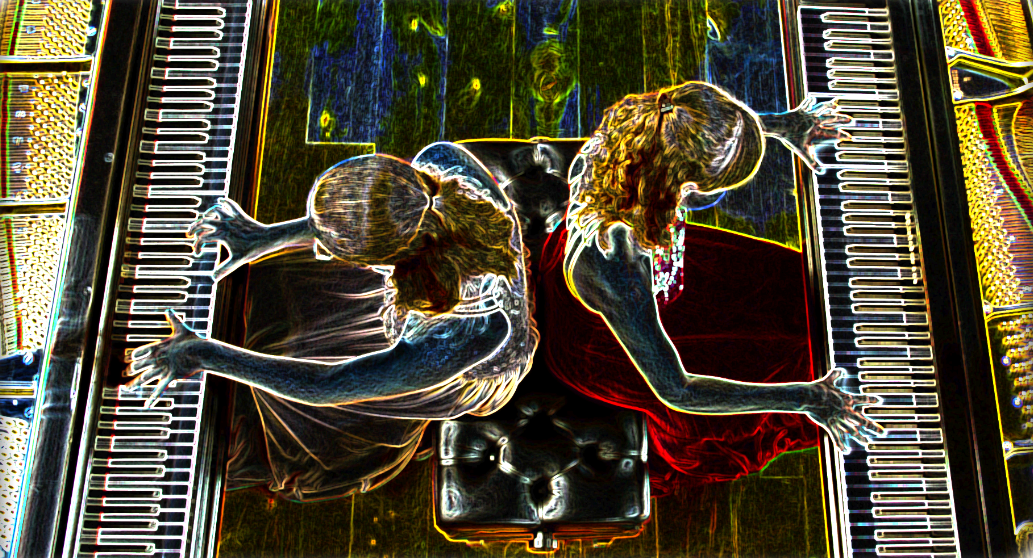 Schoenberg Hall, UCLA Herb Alpert School of Music
Tuesday, May 2 @ 8pm
Experience Emily & Kaitlin perform Reverie, Blues, and Elegy for two pianos by UCLA Distinguished Professor of Composition Ian Krouse. This piece was originally commissioned by the Minneapolis Guitar Quartet to pay tribute to English singer-songwriter Nick Drake, who took his own life.
This performance is part of an evening of vivid new music by the UCLA Composition Faculty. Program details below.
If you are unable to attend in-person, watch the concert via Livestream Here!
This concert is FREE, no reservations needed.
Location: Schoenberg Hall at UCLA Herb Alpert School of Music (445 Charles E Young Dr E, Los Angeles, CA 90095).
---
CONCERT PROGRAM 
Intermezzo (from Canti Della Natura), 2019 
Richard Danielpour
Antonio Lysy, cello
Inna Faliks, Piano
Expanded Universe (Preludes and Fugues Book I), 2021                            
David S. Lefkowitz
Prelude No.4 (E-flat); attacca
Fugue No.4
Parallel Universes (Preludes and Fugues Book II), 2022
Prelude No.12 (E-flat):  "Nigun"
Fugue No.12:  "Hora & Freylekh"
David Kaplan, piano
I Hear the Sound of Trees (preview) for Soprano, Horn, and Piano, 2008, 2022         
Kay Rhie
 After the dazzle of day
Reflective
III. Cascadilla Falls
Perfection
Love Song
Leela Subramaniam, soprano
Amy Sanchez, horn
Andreas Apostolou, piano
INTERMISSION
Reverie, Blues, and Elegy (Etude 2b from Etudes for One and Two Pianos, Op. 67), 2017             
Ian Krouse
Emily Webster-Zuber, piano
Kaitlin Webster-Zuber, piano
Wind Whines, 2021
Wojciech Stępień
 On the Beach at Fontana
 Watching the Needleboats at San Sabba
III. She Weeps over Rahoon
Carmen Edano, mezzosoprano
Andrzej Ślązak, piano
LUDUS VENTORUM (or Der Suppentopf von Herr Brant), 2023       
Peter Golub